The organization was started to create an environment for seniors and teens to reconnect and for dedicated, diverse, professional artists to share their talents on stage and off. The name spectrum reflects the diversities we draw from generationally, artistically and culturally.
Mission
To provide a space in which people from many different backgrounds can come together and create shared experiences.
Founder & Artistic Director - Craig Anthony Bannister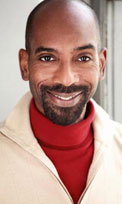 A native New Yorker (Harlem to be exact), Craig is a product of a loving, small, supportive family who instilled the values and foundation that led to a track to the arts. The New York Board of Education, including the competitive Bronx High School of Science and C.U.N.Y.'s Lehman College is where he honed the skills needed to open doors that led to jobs in other industries, including many years as a Medical Assistant, all the while working and training as a performer.
After graduating with a B.A. in Theatre Arts Management, he joined a local theatre company (M.A.T.) where he worked and trained as the lead male actor under the direction of Klehotas Tshyre. Many of the company's performances were for youth correctional facilities, women's shelters, and community events—truly the hardest and most gratifying audiences. At the same time Craig was performing and training with "Harlem's Godfather of Dance" LaRocque Bey, whose style was influenced by the dance historian Katherine Dunham.
The opportunities that followed include studying with Ernie McClintock, Arthur French, and Austin Pendleton. As an actor, Craig has been seen on the Off-Off and Off Broadway stages in roles including George Murchinson in "A Raisin in the Sun", Jacques Roux in the Castillo Theatre's "Marat Sade", and an updated version of Shakespeare's "Othello" playing the title role.
As a dancer, Craig has performed with The Phyllis Rose Dance Company, Children of Dahomey, The Seventh Principle, and Les Guivoires, appearances were in venues as varied as school assemblies, Joyce Soho, Aaron Davis Hall, and Jacobs Pillow. There has always been a teaching artist component with these dance companies that has enriched all of the experiences.
Touring with National Theatre for the Performing Arts led to a pivotal meeting with Ellen Lieberman, who as acted as a director, mentor and friend. That meeting led to five summers as a performer and one summer as director of the teen intern program with Connecticut Free Shakespeare.
Craig's directing credits include "The Rosa Parks Story" and "Roll of Thunder, Hear My Cry" for National Theater, as well as "A Christmas Carol" for the Thirteenth Street Repertory. His producing credits include Castillo Theatre's production of "A Season in the Congo" (which included a youth, adult, and senior cast). Craig also acted as Associate Producer for the Gallery Players production of "Mrs. Bob Crachit's Wild Christmas Binge".
Craig currently is a member of the acting staff of Only Make Believe, an interactive theater company that takes shows into hospitals and care facilities for children.
Production Manager - Ron Dizon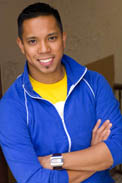 RON DIZON is a native New Yorker and a graduate from Baruch College, as well as the Stella Adler Studio of Acting Conservatory.
His professional career began as a teenager performing as a singer/dancer/actor with the City Kids Repertory. After college, he ventured into children's musical theatre on the national tours of "The Magic School Bus - Bright Idea" (Carlos) and "Wimzie's House - Wimzie's Workout" (Yaya & Bobo).
Since then, as a professional dancer, Ron has performed in Foxwoods Casinos' dance revues, such as "Diamond Spectacular" and "Around The World". He has also appeared in music videos like "Who's Got Your Money" for Motown recording artist, Tina Parol (Dir., Jonathon Lia/Choreo., Tyce Dorio) and "Peter Pan" for Belgian recording artist Lynn VerLayne (Dir., Kelly Brower/Choreo., John Byrne).
His true love is acting. He was nominated Best Supporting Actor (Spotlight-On Festival Awards) for his role as the Page in Genesis Repertory's "The Spanish Tragedy", and has recently been featured on television and the World Wide Web in commercials/promos for Brut, VH-1/X-Box, California Blue Shield, Fox Business Channel and ABC News/iPad.
Ron's regional theatrical works include "A Chorus Line" (Paul) and Off-off Broadway productions such as "The Choice" (Charles) and "The Little Mermaid" (Prince). His film work includes "Plumber's Crack", "Lord of the Dreams", and "Rooftop Heist".
Ron continues to dance with the Phyllis Rose Dance Company, performs on occasion with the well-known Striking Viking Story Pirates, works as a teaching artist with the Mustachio Bros. in NYC public schools, and is currently playing Peaches in the new interactive web-series entitled "Simpatico, The Web Series". For more info on Ron Dizon, please visit: www.rondizon.com
Board of Directors
Samantha Ives
President
Samantha has been seen guest starring on television: CBS, FOX, and NBC and has appeared on The Tonight Show With David Letterman, The Martha Stewart Show and Guiding Light. Samantha has appeared in many independent films including the award winning "A Magic Helmet," with Tom Alderedge, and "Typecasted," which won Best Short at the New York Independent Film Festival, and went on to screen at Cannes. She garnered rave reviews in the New York Times, and Variety for work Off-Broadway, and she has been seen in theatre workshops with such talent as Tony Goldwyn and Dan Lauria and has been directed by Tony winners Martin Charnin and Bob Kalfin, Tony nominee Moises Kaufman, and Oscar nominee Tony Gilroy. She is proud to have worked in many capacities with Wingspan Arts and The Allstars Project: arts non-profits focusing on underserved youth. She has been seen in over 60 commercials and print ads.
Craig Anthony Bannister -
Vice President
Craig currently facilitates workshops for Operation Conversation: Cops and Kids. A program of the All Stars Project, Inc,, that uses performance to create an environment where police officers and inner city youth create a new relationship.
He also works as a standardized patient and client for leading medical and law schools in N.Y.C., where performance is used to help practitioners become better communicators.

Craig is also very active in the community bringing programming and social justice services to marginalized populations.
Carlyle G. Leach
Treasurer
Far-reaching entrepreneurial leadership positions within business, educational, and non-profit sectors have enabled Carlyle Leach to compile a significant record of professional accomplishments. Mr. Leach has started two companies: one which presently assists in raising capital for alternative investments and for business start ups, acquisitions, and growth; the other prepared comprehensive business plans accompanied by full analyses and projections of internal management.
In the field of education, Mr. Leach created the concept for and was the founding principal of The School for Legal Studies, a New York City public high school. Additionally, he was director of the Junior Scholars Program, an academic enrichment and mentoring program at the Schomburg Center for Research in Black Culture. Mr. Leach has supervised organizations ranging from three to 100 employees and organized and delivered on going and hands on professional development to his staff.
Mr. Leach was awarded a Master's Degree with classes in statistics, business development, and labor law; earned New York State high school Teacher and School and Supervisor certificates.
Mr. Leach founded the Dukes Baseball Club for young baseball players in New York City and continues to coach and raise funds for the organization.

Mr. Leach lives in Brooklyn with his wife, Annette, and two sons, Hayward and Auguste.
Ron Dizon
Secretary
Ron is a native New Yorker and graduate of Baruch College, as well as the Stella Adler Studio of Acting Conservatory.
His professional career began as a teenager performing as a singer/dancer/actor with the City Kids Repertory. After college, he ventured into children's musical theatare on the national tours of "The Magic School Bus- Bright Idea" (Carlos) and "Wimzies House - Wimzie's Workout" (Yaya & Bobo).